04 Aug

Valentina Biasetti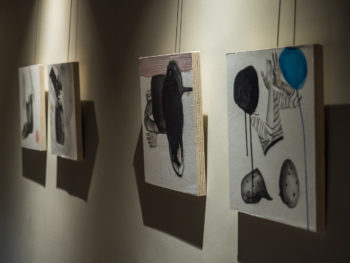 Valentina Biasetti (Parma, 1979)
She applies for the painting school at the Accademia di Belle Arti di Bologna. In 2002 the exhibiting starts with the show Prime Pagine (Modena) curated by Davide Benati, in 2004 Valentina Biasetti is selected for Quotidiana04 at the Museo Civico of Padova and participates at the XIX edition of the Morandi Award at GAM in Bologna. She graduates in 2005 summa cum laude. In 2008 she is selected by Archivio dei Giovani Artisti di Parma for the collective show Punto.15 at Palazzo Pigorini (Parma), which is followed by a range of collective and solo shows.
In 2010 Valentina Biasetti appears between the finalists of the first edition of the Combat Prize (Livorno). In 2015 she shows up between the finalists (with special reference) of the ArteamCup at Officina delle Zattere (Venice).
In 2016, solo show PINK MOON (Ferrara). In 2017 Angeli di Nylon, solo show at Gare82 in Brescia and winner of the Basement Project Room Award at the competition We Art International (Treviso), Black Sugar, solo show at Spazio 5/A in Parma, Sometimes you should try to fly, solo show at the Basement Project Room in Fondi (Latina), The mirror is my partner in crime, solo show at Galleria 39 artecontemporanea, Prato.