04 Aug

Andrea Valenti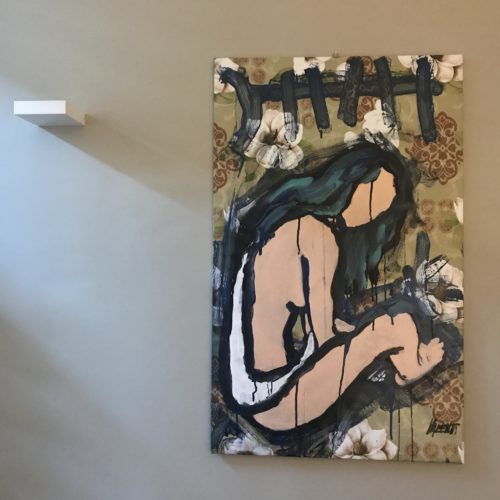 Andrea Valenti was born in Siena in 1967. He studied at "Paolo Toschi" art high school in Parma and then got a degree in architecture from Politecnico di Milano. Since 1995, after a long journey in in the Amazon, he abandons the profession of architect to entirely devote himself to painting. He exhibits at Centro Sociale Livello 57 in Bologna and on the street, spreading his paintings on the ground in Los Angeles, New York and London.
In 2004, he is selected among the finalists of the Premio Arte Mondadori and at the XVII edition of the Treccani degli Alfieri competition.
In 2012 Andrea Valenti wins the live painting competition Muri Liberi and, in ex-equo, also the first edition of Art-libre sui Muri del Convento, at Convento dei Frati Cappuccini in Reggio Emilia. In 2014 he wins the first prize of the AnspiArte competition.
He collaborated with the galleries: Common Room Gallery in London, Gewo Gallery in Marburg (Germany), MAC in Milan, De Marchi in Bologna, 8.75 Vetrina in Reggio Emilia, L'Ottagono in Bibbiano (RE), Raisart Studio in La Spezia; Andrea Valenti is now cooperating with the Trip Gallery in Brescia.
To date, the main personal exhibitions held were in 2017, "Tablecloths", La Zona exhibition space at Centro Cinema Lino Ventura, Parma. Critical text by Silvia Lumaca. 2014, "Life and colors" at Palazzo Giordani, headquarters of the Province of Parma, curated by Stefania Provinciali; 2012 "La Resistenza Contesa", staged at Galleria delle Colonne at the Edison Cinema in Parma, curated by Centro Studi Movimenti, the Materia Off e Solare Fondazione delle Arti cultural circle; 2011, "Atram", Galleria L'Ottagono, Bibbiano (RE), curated by Giuseppe Berti; 2009, "Linea Adesiva", Raisart Studio, La Spezia, curated by Isabella Raimondi; 2008, "Gotico Barbarico", Galleria "8.75 Vetrina", Reggio Emilia, curated by Chiara Serri;
Andrea Valenti lives in Parma and has his own studio at the "Cubo" in Via La Spezia, 90.
sito ufficiale: www.andreavalenti.net